Schuschnigg, Kurt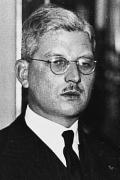 © Copyright
Kurt Schuschnigg. Photo, 1935.
---
Schuschnigg, Kurt, b. Riva (Italy), Dec. 14, 1897, d. Mutters (Tyrol), Nov. 18, 1977, law graduate and politician (Christian Socialist). Founded the Christian paramilitary unit "Ostmärkische Sturmscharen" in 1930, then member of the Nationalrat (1927-1934). In 1932 appointed Minister of Justice, 1933/1934 also Minister of Education, from July 29, 1934 to March 11, 1938 Chancellor and Head of the Ministry of Education and of the Ministry of War. S. continued the authoritarian rule of E. Dollfuß, tightened the ties with Mussolini's regime in Italy and promulgated the concept of Austria as a second German state. After the elimination of the Heimwehr (para-military force), he became Federal Commander of the Christian-Socialist movement Fatherland Front in 1936 and tried to save Austria's independence by means of the Juliabkommen 1936 agreement and sweeping concessions to Hitler at a meeting in Berchtesgaden on February 12, 1938. On March 9, 1938 he announced a referendum on Austria's independence for March 13 but the German troops invaded the country beforehand (Anschluss). On March 11, 1938 he resigned under strong National Socialist pressure and was imprisoned until 1945. In 1948 S. emigrated to the USA, was Professor of Law at the University of St. Louis from 1948-1967 and then returned to the Tyrol.
---
Works: Dreimal Ö., 1937; Ein Requiem in Rot-Weiß-Rot, 1947; Ö., eine historische Schau, 1948; Im Kampf gegen Hitler, 1969.
Literature: R. K. Sheridon, K. v. S., 1942; W. Goldinger, K. S., in: F. Weissensteiner and E. Weinzierl (eds.), Die ö. Bundeskanzler, 1983; A. Hopfgartner, K. S. Ein Mann gegen Hitler, 1989.
---
References to other albums:

---