Schubert, Ferdinand Lukas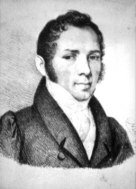 © Copyright
Ferdinand (Lukas) Schubert, engraving around1830
---
Schubert, Ferdinand (Lukas), b. Vienna, Oct. 18, 1794, d. Vienna, Feb. 26, 1859.Teacher and headmaster, brother of Franz Schubert. Little talent as a composer. Administered the estate of his brother.
---
Works: Numerous school books (Der kleine, fleißige Kopfrechner, 1829) and publications on school reform. - Compositions.
Literature: M. Zahorik, F. S., master´s thesis, Vienna 1995.
---