Schröder, Sophie geborene Bürger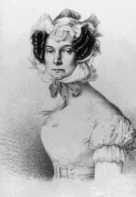 © Copyright
Sophie Schröder, drawing by M. v. Schwind, around 1840
---
Schröder, Sophie (née Bürger), b. Paderborn (Germany), Feb. 28 (or March 1), 1781, d. Munich (Germany), Feb. 25, 1868. Actress. Mother of the singer Wilhelmine S.-Devrient (b. Hamburg (Germany), Dec. 6, 1804 d. Coburg (Germany), Jan. 26, 1860). Apart from her engagements in Hamburg, Prague and Munich in 1798/99 (as S. Stollmers), at the Burgtheater (great tragedian, especially leading parts in Grillparzer dramas such as "Sappho" and "Medea") 1815-1829 and 1835-1840.
---
Publications: Briefe (1813-1868), ed. by H. Stümcke, 1910; S. S. Briefe an ihren Sohn Alexander S., ed. by H. Stümcke, 1916.
Literature: P. Schlenther, S. S., 1891; E. Quadflieg, S. S. und Goethe, 1954; I.-U. Keller, S. S. Repräsentantin des Hamburg-Weimarer Stils in der dt. Schauspielkunst, doctoral thesis, Berlin 1961; ÖBL.
---