Schneyder, Werner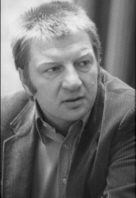 © Copyright
Werner Schneyder. Photo, 1985.
---
Schneyder, Werner, b. Graz (Styria), Jan. 25, 1937, writer, actor, revue artiste. 15 years as a boxing referee. Studied journalism and art history, 1962-1965 theatre dramaturge in Salzburg and Linz, since 1965 free-lance artist for theatre, radio and television. 1974 beginning of his cabaret career at the "Münchner Lach- und Schießgesellschaft". Author of essays, features, radio plays and satirical books. Worked as a director ("Die letzten Tage der Menschheit" by K. Kraus at the Theater in der Josefstadt, 1995). 1981 Nestroy Ring, 1984 awarded the Deutscher Kleinkunstpreis (for cabaret and revue).
---
Works: Empfehlung der einfachen Schläge, 1973; Die Unternehmungen des Herrn Hans, 1975; Die Vermeidung von Rückschlägen, 1976; Vom Nachlassen der Schlagkraft, 1979; ... über Sport. Dabeisein ist gar nichts, 1980; Gelächter vor dem Aus, 1980; E. Kästner, 1982; Schlafen Sie gut, Herr Tucholsky, 1983; Wut und Liebe, 1985; Abschied vom Karpfen, 1986; Ende der Sommerpause, 1988; Das Gefährliche an der Kunst, 1991; Reimzeit, 1995; Selberdenken ist auch eine Möglichkeit, 1995; Meiningen oder Die Liebe und das Theater, 1998. - Drama adaptations, films.
---