Schneider-Siemssen, Günther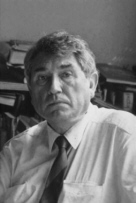 © Copyright
Günther Schneider-Siemssen. Photo, 1990.
---
Schneider-Siemssen, Günther, b. Augsburg (Germany), June 7, 1926, set designer. 1951-1954 chief set designer of the Salzburg Provincial Theatre (Salzburger Landestheater), from that time also worked at the Salzburg Marionette Theatre, 1954-1961 chief set designer at the Staatstheater Bremen. From 1962 to 1986 set designer for all Federal Theatres, from 1965 also for the Easter and Summer Festival in Salzburg; 1969-1983 at the Metropolitan Opera in New York and other big theatres. 1969-1994 taught set design at the International Summer Academy in Salzburg; master of naturalistic, practicable sets (28 sets for H. von Karajan, 60 for O. Schenk), esp. by using special effects of lighting and holography; designer of light festivals in Salzburg.
---
Literature: K. Becsi (ed.), Die Bühne als kosmischer Raum. Zum Bühnenbildschaffen von G. S.-S., 1976; J. Mayerhöfer (ed.), G. S.-S. 30 Jahre Bühnenschaffen, 1977; K. Pahlen, "Die Bühne - mein Leben". G. S.-S. in Gesprächen mit K. Pahlen, 1996.
---