Schärding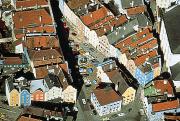 © Copyright
Schärding.
---
Schärding, Upper Austria, town in the district of Schärding, alt. 318 m, pop. 5,446, area 4.08 km2, situated at the confluence of the River Pram and the River Inn opposite the Bavarian town of Neuhaus am Inn. - District commissioner, district court, district chamber of agriculture, district police headquarters, district school board, district indoor sports centre, inland revenue office, office of surveying, customs office, security police, department for road maintenance, Schärding water gauge (hydrographic service), agencies of the Economic Chamber and Chamber of Labour, vocational training institute, hospital, Kneipp therapy centre of the Kights Hospitaller and Gugerbauer health hotel, library, sport centre, Bundesgymnasium secondary school, commercial academy, vocational school for trade and commerce, Inn-Danube school for ship captains, waterworks, district heating plant, Schärding-Neuhaus run-of-river power plant (built in 1961, 48 MW); 3,884 persons employed (1991) of which 70 % in the service sector: primarily personal, social and public services, tourism (77,685 overnight stays in 1992); two breweries, construction firms. - First documented mention in 804 as "Scardinga", medieval fortified settlement located on important trade and transportation routes. Because the town changed hands so many times, it was granted a city charter on several occasions (1316, 1364); originally a Bavarian town, Schärding has belonged to Austria since 1779. - Two town squares, remains of the fortifications (14th /15th century) with Wassertor, Linz and Passau gates, so-called Capuchin bulwark (17th century) and castle ruins in the Schloßpark; parish church with a Gothic choir and nave 1720-1726 which was redesigned in the Baroque style and renewed in 1814, marble high altar (1677, from Regensburg), St. Theresia´s altar with a painting by J. M. Rottmayr, a figural gravestone (1428) in the bell tower, wrought-iron grave crosses (17th -18th centuries); Baroque church of the Knights Hospitaller in the Kneipp therapy centre (1635-1638) originally a Capuchin church, renovated in 1930); former St. Sebastian´s church (Protestant church since 1954), built by J. B. Viscardi in 1635-1640, crucifix (17th century); town square with homogeneous townscape elements; burghers houses (16th -19th century) with sweeping Baroque gables and square bays: city hall, "bemaltes Haus" ("painted house") with fresco dating back to around 1640; city museum located in the former outer city gate.
---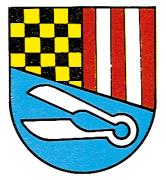 © Copyright
Coat of arms of Schärding.
---
Literature: D. Frey, Die Denkmale des politichen Bez. Schärding, 1927; Anonymus, Festschrift 650 Jahre Stadt Schärding, 1966; Österreichisches Städtebuch vol. I, Die Städte Oberösterr., 1968.
---
References to other albums:

---