Schalk, Franz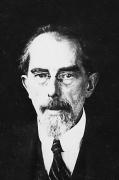 © Copyright
Franz Schalk. Photo.
---
Schalk, Franz, b. Vienna, May 27, 1863, d. Edlach (municipality of Reichenau an der Rax, Lower Austria), Sept. 3, 1931, conductor; brother of Josef Schalk. Studied under A. Bruckner, 1900 1st Kapellmeister of the Vienna Court Opera, 1904-1921 also head of the concerts of the Gesellschaft der Musikfreunde in Wien; 1909-1919 teacher at the Vienna Academy of Music; 1918-1929 director of the Vienna State Opera (1919-1924 with R. Strauss), made it very successful. Initiated the tours of the opera company, organised performances of operas by Mozart and other composers in the Redoutensaal hall at the Hofburg (Imperial Palace) and played a vital part in the creation of the Salzburg Festival; conductor of the Vienna Hofburg orchestra. Favoured works by A. Bruckner.
---
Publication: Briefe und Betrachtungen, 1935.
Literature: T. Leibnitz, Die Brüder Schalk und A. Bruckner, 1988; ÖBL; NÖB.
---
References to other albums:

---