Ringtheater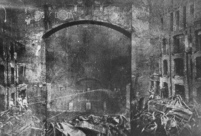 © Copyright
Interior of the Ringtheater as destroyed by the fire on December 8, 1881.
---
Ringtheater, former theatre in the first district of Vienna. Erected in 1873/74, opened in 1874 as "Comic Opera" (counterpart to the k. u. k. Hofoperntheater; performance of light operas); renamed Ringtheater when the repertory was changed to include plays, German and Italian operas and variety shows in 1878. Completely destroyed by a fire on December 8, 1881, in which 386 persons died; the fire broke out shortly before a performance of "The Tales of Hoffmann". Accordingly, a new law concerning the interior of theatres and safety measures (e.g. Iron Curtain, fire-proof stage sets) was passed in 1882. What was called the "Sühnhaus" ("House of Atonement") was built on the ruins of the former Ringtheater by private funds made available by the Emperor; the "Sühnhaus" consisted of rented premises, the rental proceeds being used for charitable purposes. It was heavily damaged in 1945 and finally demolished in 1951; the federal police headquarters were built on the area between 1969 and 1974.
---
Literature: E. R. Förster, Die Komische Oper in Wien, in: Allgemeine Bauzeitung 40 (1875); Der Brand des Wiener Ringtheaters am 8. Dezember 1881 und seine Opfer, 1881; P. Cerny, Der Ringtheater-Brand ein Versäumnis?, doctoral thesis, Vienna 1986.
---