Ringel, Erwin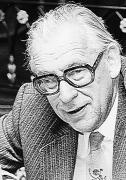 © Copyright
Erwin Ringel, photo
---
Ringel, Erwin, b. Timisoara, Romania, April 27, 1921, d. Bad Kleinkirchheim (Carinthia), July 28, 1994, depth psychologist. Specialist in psychiatry and neurology, 1948 established the first centre for suicide prevention; 1954 became director of the Psychiatric Ward for Women in Vienna and there established the first psychosomatic ward in Austria. 1960 description of pre-suicidal syndrome and founder and president of the International Association for the Prevention of Suicide, 1960-1988 president of the Austrian Association for Individual Psychology and founder of the Austrian society for clinical psychosomatic medicine in 1978. 1981-1991 professor of medical psychology (first chair).
---
Works: Untersuchungen zum Selbstmordproblem, 1961; Selbstschädigung der Neurose, 1973; Selbstmordverhütung, 1974; Die österreichische Seele, 1984; Zur Gesundung der österreichischen Seele, 1986.
Literature: U. Kropiunigg (ed.), E. R. Die wichtigsten Schriften, 1991; F. R. Reiter (ed.), Wer war E. R.?, 1995.
---