Reinhardt, Max eigentlich M. Goldmann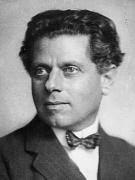 © Copyright
Max Reinhardt. Photo, 1923.
---
Reinhardt, Max (real name: M. Goldmann), b. Baden (Lower Austria), Sept. 9, 1873, d. New York (USA), Oct. 31, 1943, actor, director, theatre manager. His second wife was the actress H. Thimig-Reinhardt. 1890 acting début in Vienna, 1894-1902 worked at the Deutsches Theater in Berlin, which he ran, with intermissions, from 1905 to 1933 . 1901 founded the literary revue "Schall und Rauch" in Berlin, which, in 1902, he changed to the "Kleines Theater" (1903 big success as director of M. Gorki's "Nachtasyl"). Until 1906 ran the Neue Theater, then several other Berlin theatres and from 1924 the renovated Theater in der Josefstadt in Vienna. 1929 founded a school for acting and directing in Vienna, the Reinhardt-Seminar. R. was co-founder and director of the Salzburg Festival, 1920-1937 staged H. von Hofmannsthal's "Jedermann" ("Everyman"). Initiated a new school of theatre directing in which directing plays a central role, with crowd scenes, a revolving stage, impressive costumes, sets and lighting effects (collaboration with artists such as E. Munch, M. Slevogt or A. Roller). R. also worked in film ("Sommernachtstraum", 1935). In 1938 emigrated to New York via London.
---
Editions: Ausgewählte Briefe, Reden und Schriften, ed. by F. Hadamowsky, 1963; Schriften, Briefe, Reden, Aufzeichnungen, Interviews, Gespräche und Auszüge aus Regiebüchern, ed. by H. Fetting, 1975.
Literature: E. Stern and H. Herald, R. und seine Bühne, 1921; H. Herald, M. R., 1953; F. Hadamowsky, R. und Salzburg, 1963; G. Adler, M. R. - sein Leben, 1964; H. Braulich, M. R. Theater zw. Traum und Wirklichkeit, 1966; H. Kindermann, M. R. Weltwirkung, 1969; G. Reinhardt, Der Liebhaber, 1973; H. Thimig-R., Wie M. R. lebte, 1973; L. M. Fiedler, M. R. in Selbstzeugnissen und Bilddokumenten, 1975; H. Huesmann, Welttheater R. Bauten, Spielstätten, Inszenierungen, 1983; E. Fuhrich and G. Prossnitz (eds.), M. R. "Ein Theater, das den Menschen wieder Freude gibt ...", 1987.
---