Ratzenhofer, Gustav Pseudonym: Gustav Renehr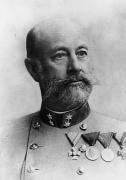 © Copyright
Gustav Ratzenhofer, photo
---
Ratzenhofer, Gustav (pseudonym: Gustav Renehr), b. Vienna, July 4, 1842, d. en route from America to Europe, Oct. 8, 1904, philosopher, sociologist, field marshal and president of the supreme military court. Wanted politics to be regarded as a science and advocated the reconciliation of the Austro-Hungarian peoples.
---
Works: Wesen und Zweck der Politik, 3 vols., 1893; Positive Ethik, 1901; Soziologie, 1907.
Literature: O. Gramzow, G. R. und seine Philosophie, 1904; ÖBL.
---