Preradović, Paula von verehelichte Molden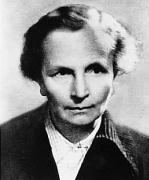 © Copyright
Paula von Preredovic, photo
---
Preradović, Paula von (married name Molden), b. Vienna, Oct. 12, 1887, d. Vienna, May 25, 1951, poetess, narrative writer; wife of Ernst Molden, mother of Fritz Molden and Otto Molden. Wrote the lyrics of the Austrian national anthem (1947). Grew up in Pola (Istria, Croatia) 1916 married Ernst Molden; lived in Copenhagen and from 1920 again in Vienna.
---
Works: poetry: Dalmatinische Sonette, 1933; Lob Gottes im Gebirge, 1936; Ritter, Tod und Teufel, 1946. - Prose: Pave und Pero, 1940; Die Versuchung des Columba, 1951; Königslegende, 1950; Wr. Chronik 1945, 1995 (diary).
Literature: Z. Orlandic, Südslaw. Motive in der Dichtung der P. v. P., 1979.
---
References to other albums:

---