Nüll, Eduard van der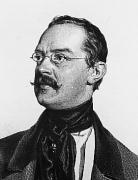 © Copyright
Eduard van der Nüll, lithograph by J. Kriehuber, 1851
---
Nüll, Eduard van der, baptised Vienna, Jan. 9, 1812, d. Vienna, April 4, 1868 (suicide), architect. Chief representative of the time of Emperor Franz Joseph/Ringstraße period; probably an illegitimate son of the future master general of ordnance Baron L. von Welden. Studied in Vienna, 1839-1843 extensive educational tour of Europe with A. Sicard von Sicardsburg, with whom he worked for the rest of his life; from 1843 taught at the Vienna Academy. As teachers and architects, v. d. Nüll and Sicardsburg were the undisputed stars among the Austrian architects of the late Romantic period. The assumption that v. d. N. was responsible for design in their joint studio, S. for the technical and practical aspects, is not quite correct, but there is no doubt about v. d. N.´s exceptional ornamental and decorative talent. Due to the circumstances of the time v. d. N. and S. did relatively little actual building work, but did develop many monumental projects (expansion of the city, university). They advocated an internationally open-minded and independent concept of the total work of art (Gesamtkunstwerk) without restrictions of style or norms, a very twentieth-century approach to architecture; however, the specialisation advocated by F. von Schmidt and T. von Hansen was in the long run more successful. The commission to build the Vienna Opera (1861-1869), that was meant to make amends for earlier slights, although it brought them world-wide acclaim, also caused animosities and problems that finally drove v. d. N. to suicide before the building was completed. However, his school, with C. von Hasenauer at its head, later became very popular.
---
Further works: Vienna: Carltheater, 1847 (1944-1951 destroyed), interior design of the Altlerchenfelder Kirche, 1849-1861; headquarters and barracks at the Arsenal, 1849-1856; Robert-Hof, 1855; Larisch-Moennich Palace, 1868; Haas House, 1868 (1945-1951 destroyed); pedestals of the monuments of Archduke Karl and of Prince Eugène; villas, various designs (e.g. cover of the prayer book of Empress Elisabeth, O´Donnell coat of arms).
Literature: H.-C. Hoffmann, W. Kitlitschka and W. Krause, Das Wr. Opernhaus, 1972; ÖBL.
---
References to other albums:

---