Moll, Carl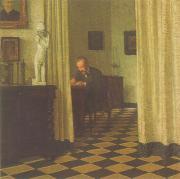 © Copyright
Carl Moll, self-portrait in his workshop. Painting, around 1906 (Vienna Academy of Fine Arts).
---
Moll, Carl, b. Vienna, April 23, 1861, d. Vienna, April 13, 1945 (suicide), painter of landscapes, interiors and still life. Studied at the Academy of Fine Arts in Vienna with C. Griepenkerl, student and friend of E. J. Schindler, whose wife he married after S.'s death (which made him stepfather of Alma Mahler-Werfel). In 1897 co-founder of the Vienna Secession, which he left in 1905 together with the Klimt group. Supported the Klimt group until 1912 as art director of the gallery Miethke in Vienna, organised several exhibitions for foreign artists in Vienna and subsequently devoted himself to painting. During this period he created chromolithographs and coloured woodcuts of large format. In the 1920s he travelled to Italy and the South of France. In his later landscape paintings he overcame the two-dimensional style of the Secessionists to create works of an expressive, illuminated three-dimensional character.
---

© Copyright
Carl Moll. Photo on his 75th birthday, 1936.
---
Literature: M. Fritz, Der Wr. Maler C. M. (1861-1945), doctoral thesis, Innsbruck 1962; H. Dichand (ed.), C. M. Seine Freunde - Sein Leben - Sein Werk, 1985; G. T. Natter and G. Frodl, C. M. (1861-1945), exhibition catalogue, Österreichische Galerie Belvedere, Vienna 1998; NDB.
---