Molden, Fritz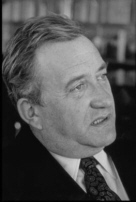 © Copyright
Fritz Molden. Photo from the 1970s.
---
Molden, Fritz, b. Vienna, April 8, 1924, journalist and publisher; son of Ernst Molden and Paula von Preradović, brother of Otto Molden. 1944/1945 member of the Austrian Resistance movement. 1946 editor, 1950-1953 publishing director, until 1961 publisher of "Die Presse", "Wochenpresse" und "Express", until 1958 also of the "Bildtelegraf". 1965 established the F. M. publishing house which was initially successful but closed down in 1982 following bankruptcy.
---
Publications: Fepolinski und Waschlapski auf dem berstenden Stern, 1976; Besetzer, Toren, Biedermänner, 1980; Der Konkurs, 1984; Das Feuer in der Nacht, 1988.
Literature: K. Schwarzenberg (ed.), Fepolinski revisited. F. M. zum 75. Geburtstag, 1999.
---