Mitterer, Felix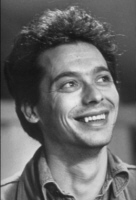 © Copyright
Felix Mitterer, photo 1980
---
Mitterer, Felix, b. Achenkirch (Tyrol), Feb. 6, 1948, dramatist, author of radio plays, film scripts and narratives. Employed initially at the customs office in Innsbruck, 1970 his first texts were broadcast on Austrian TV. Calls himself a popular author and regional poet and in his dramas of dialectal artificial language follows the tradition of popular plays as regards form and contents. The main topics are the social isolation of outsiders and how fascism has infiltrated village life in Tyrol ("Kein schöner Land", 1987).
---
Further works: Dramas: Kein Platz für Idioten, 1977; Stigma. Eine Passion, 1982; Die wilde Frau, 1986; Verlorene Heimat, 1987; Die Kinder des Teufels, 1989; Sibirien, 1989; Ein Jedermann, 1991; Abraham, 1993; Krach im Hause Gott, 1994; In der Löwengrube, 1998; Die Frau im Auto, 1998. - Children's book: Superhenne Hanna, 1977. - Scripts: Der Narr von Wien (P. Altenberg), 1981; Die verkaufte Heimat, 2 parts, 1988/1989; Die Piefke-Saga, 1991. - Radio plays.
Literature: N. J. Meyerhofer (ed.), F. M. A Critical Introduction, 1995.
---