Melk, Niederösterreich, Stadt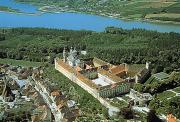 © Copyright
Melk Abbey.
---
Melk, Lower Austria, town in the district of Melk, alt. 213 m, pop. 5,139, area 25.71 km2, on the southern bank of the Danube, between the mouths of the Rivers Melk and Pielach, at the entrance into the Wachau region; landing stage, Danube bridge. - District commission, local court, Birago Barracks, local tax office, office of weights, measures and surveying, economic chamber, chamber of labour, local chamber of agricultural workers, hospital, information centre, episcopal seminary, Protestant pastoral office, child guidance clinic, road and bridge maintenance depot, Melk run-of-river power station (1982, 187 MW), regional administration of the Forest Technology Service for Torrent and Avalanche Control (Forsttechnischer Dienst für Wildbach- und Lawinenverbauung), Stiftsgymasium (collegiate secondary school) and seminary, school for adult education; Wachau Ring motor sport racing-course, Melk Summer Festival; 2,840 persons employed (1991), about 64 % of which in the service sector (especially personal, social and public services, trade); printing shop, plastics and wood processing industries, metal-works and heater production plant, building and construction industry; summer tourism (45,006 overnight stays). - Colonisation started in the Neolithic age, archaeologic finds from Melk and surrounding lands are on display in the town museum; 831 documented mention as "Medilica", in the medieval German epic "Nibelungenlied" (around 1200) as "Medelicke". After 976 main seat of Margrave Leopold I and his successors, in the 11th century founding of a canonicate abbey with a tomb for Austrian margraves; 1089 converted into a Benedictine abbey, 1113 Leopold III donated the castle section to the abbey. Important goods distribution centre until the 17th century, granted town charter 1898. Patrician houses with historical, mainly Baroque façades (late Gothic centre) around the St. Colman fountain (1687) on the rectangular market square. Parish church (late Gothic core, reconverted with neo-Gothic interior) with monumental Mount of Olives group (around 1520); early classisistic post house, richly decorated with stucco (1792). Abbot B. Dietmayr had the Benedictine Abbey built as a Baroque abbey palace in a prominent place above the Danube by J. Prandtauer, 1702-1736 (completed by J. Munggenast); with its 362-m-long front and 1,188 windows it is one of the most important monumental structures in Europe; the collegiate church, one of the most important Baroque churches in Austria, was built by J. Prandtauer 1702-1726, continued by J. Munggenast until 1734, restoration work to repair fire damage lasted until 1746 (the 63-m-high cupola was renovated in 1947 after a fire), contains works by the painters J. M. Rottmayr, G. Fanti, P. Troger, P. Widerin, magnificent high altar, splendid organ case (1733). Graves of Saint Colman and of the early Babenbergs with their wives (Baroque monuments). On the monastery premises, gateway and bastions, main building around the prelacy yard, partly erected on top of previous buildings, prelacy with banqueting room (picture gallery), paintings of the collegiate parish churches, "Melker Kreuz" - "Melk Cross" in the treasure-chamber (1362 and 1st quarter of 15th century), portable altarlet of Margravine Suanhild (11th century), Monstrance of Saint Colman (1752); paintings of the Babenbergs and Habsburgs in the emperor´s tract, museum with Romanesque crucifix (12th century), panel paintings by H. Egkl (15th century), Jörg Breu and P. Troger; huge roofless terrace-like balcony; library with ceiling fresco by P. Troger, fresco by J. Bergl on the upper floor, 80,000 vols., 1,850 manuscripts, 868 incunabula; school tract with St. Colman´s hall - Kolomanisaal ("students´ chapel") with frescoes by P. Troger; residence for seminarians, park with garden pavilion (F. Munggenast, 1747).
---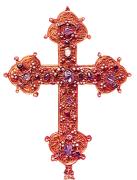 © Copyright
Melk Cross, after 1362 (Melk Abbey, Lower Austria).
---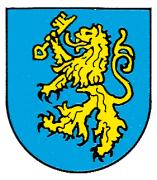 © Copyright
Coat of arms of Melk.
---
Literature: Österr. Städtebuch, vol. IV, part 2, Die Städte Niederösterreichs, 1976; G. Flossmann, W. Hilger and H. Fasching, Stift Melk und seine Kunstschätze, 1977; Zeitschrift Stift Melk in Geschichte und Gegenwart, 1981ff.; 900 Jahre Benediktiner in Melk, exhibition catalogue, Melk 1989; Arbeitskreis für Bezirks-Kunde, Leitung (Working group for district studies, head) G. Flossmann, (ed.), Herzstück Niederösterr. Der Bezirk Melk, 2 vols., 1990-1994.
---
References to other albums:

---