Meinhard I., Graf von Tirol als Graf von Görz Meinhard III.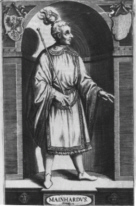 © Copyright
Count Meinhard I of Tyrol. Engraving, 18th century.
---
Meinhard I, Count of Tyrol (as Count of Gorizia Meinhard III), b. around 1200/05, d. Jan./Feb. 1258, Count of Gorizia and Tyrol, father of Meinhard II. From 1232 lord of the Gorizia estates, in 1237 invested his father-in-law Albert III of Tyrol with his estate (married to Albert´s daughter Adelheid), 1248-1250 captain of the German Empire in Styria and Carniola, 1250 also in Austria in1252 in the Treaty of Lieserhofen had to take estates (Lienz) as fiefs from Philipp Archbishop of Salzburg and give his sons as hostages. After the death of Albert III in 1253 M. and his brother-in-law Gebhard von Hirschberg divided Tyrol, M. received South Tyrol and fortified his position there, his descendants, the Meinhardiner, dominated Tyrol, Carinthia and Gorizia until well into the 14th century. Ulrich von Liechtenstein immortalised M. in his book "Frauendienst", dealing with life at court.
---
Literature: NDB.
---