Maximiliansgrab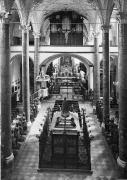 © Copyright
Emperor Maximilian´s tomb in the Hofkirche in Innsbruck.
---
Maximilian, Tomb of, situated in the Hofkirche church in Innsbruck, largest mausoleum of the western world, ornamented with numerous statues; Emperor Maximilian I intended to have this work of art set up above his grave at Wiener Neustadt; designed according to his own ideas. Consisting of a large sarcophagus surrounded by numerous statues, the mausoleum was created by various artists between 1508 and 1550.
Maximilian´s grandson, Emperor Ferdinand I, had the Hofkirche (1553-1563) erected at Innsbruck for the exclusive purpose of setting up this tomb. He also had a cenotaph of Maximilian (1561-1583) sculptured, which was put on the sarcophagus. The sarcophagus is surrounded by 28 larger-than-life bronze statues representing Maximilian´s ancestors and relatives (the creation of 40 statues was planned in the original designs for the tomb), as well as by 34 busts of Roman emperors and 23 statuettes of the Habsburgs´ patron saints. The rather lifelike statues of Maximilian´s ancestors, which are sometimes also referred to as "Schwarze Mander" ("Black Men"), all carry candles and symbolize a funeral procession bemoaning the emperor´s death. These statues were designed by notable artists, e.g. J. Kölderer, A. Dürer and C. Amberger and were cast in the Tirolean foundries of G. Sesselschreiber, S. Godl and G. Löffler. Two statues (1513) were created by P. Vischer at Nürnberg; the statuettes were made by J. Kölderer.
A. Colin ornamented the cenotaph with 24 finely carved alabaster reliefs depicting scenes of Maximilian´s life (1561-1566), as well as the four cardinal virtues (1570) on the edges of the sarcophagus. He also created the bronze statue of the emperor (1582-1583) kneeling on the sarcophagus.
---
References to other albums:

---