Martini, Karl Anton, Freiherr zu Wasserburg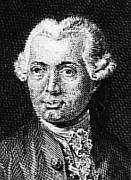 © Copyright
Baron Karl Anton Martini zu Wasserburg, engraving by Mansfeld
---
Martini, Baron Karl Anton, zu Wasserburg, b. Revo (Italy), Aug. 15, 1726, d. Vienna, Aug. 7, 1800, law scholar, political philosopher, advocate of natural law. 1754 University Professor, 1782 State Councillor, 1792 second President of the Supreme Judiciary, creator of the Code of Law of Western Galicia, preliminary to the General Code of Civil Law (Allgemeines Bürgerliches Gesetzbuch).
---
Publications: De lege naturali positiones, 1767; Positiones de jure civitatis, 1768.
Literature: M. Hebeis, K. A. v. M. (1726-1800). Leben und Werk, 1996; H. Barta (ed.), Naturrecht und Privatrechtskodifikation, 1999; NDB.
---