Leopoldi, Hermann eigentlich H. Kohn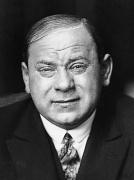 © Copyright
Hermann Leopoldi, photo
---
Leopoldi, Hermann (real name: Hermann Kohn), b. Vienna, Aug. 15, 1888, d. Vienna, June 28, 1959, composer, actor and musical revue artist (first performance 1916 in the Ronacher theatre in Vienna). Numerous guest performances abroad including the United States. 1938 in a concentration camp. 1939-1947 exile in USA. Wrote the lyrics and music for numerous hits and Viennese folk songs.
---
Works: In einem kleinen Café in Hernals; Schön ist so ein Ringelspiel; In Langenlois, in Langenlois; Der stille Zecher; Powidltatschkerln.
Literature: H. Weiss (ed.), "In einem kleinen Café in Hernals", 1992 (with work index).
---