Lenau, Nikolaus eigentlich N. Franz Niembsch Edler von Strehlenau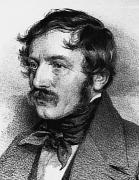 © Copyright
Nikolaus Lenau, lithograph by J. Kriehuber
---
Lenau, Nikolaus (real name: N. Franz Niembsch Edler von Strehlenau), b. Csatád, Rumania (then Lenauheim), Aug. 13, 1802, d. Vienna, Aug. 22, 1850, poet, wrote epic verse. From 1819 studied law, medicine, philosophy and agriculture in Vienna. His friends included F. Grillparzer, F. Raimund, A. Grün, being a good violinist also acquainted with J. Strauß the Elder and with J. Lanner. 1831 went to Heidelberg, then Stuttgart, where his first volume "Gedichte" (1832) was published, including the Schilflieder ballads. 1832 went to the United States but came back after only one year deeply disappointed and lived alternately in Swabia (Germany) and in Austria. He spent the last 6 years of his life in a psychiatric ward. L.'s work is characterized by melancholy and weltschmerz; like Lord Byron, he led a restless life and several engagements were broken off. His drama "Faust" (1835) shows autobiographical features and is an epic sequence in which the hero finally commits suicide. In his later epic poetry "Savonarola" (1837), "Johannes Žižka" (1838/42) and "Die Albigenser" (1842) turned to historical-revolutionary topics. His dramatic poem "Don Juan" (1844) remained unfinished. New type of expressive language in his nature poems; important political poems. "Faust" and "Don Juan" inspired F. Liszt, H. Berlioz und R. Strauss. His journey to America inspired F. Kürnberger to write his novel "Der Amerika-Müde". 1964 the Ministry for Education established an International N. Lenau Prize (since 1965 the Austrian State Prize for European Literature).
---
Further publications: Neuere Gedichte, 1838; Waldlieder, 1843. - Editions: Krit. Ausgabe seiner Dichtungen und Briefe, ed. by E. Castle, 6 vols., 1910-1913 and 1923; Sämtl. Werke und Briefe, 2 vols., ed. by W. Dietze, 1970; Werke und Briefe, historical-critical edition by H. Brandt et al., 1989ff.
Literature: J. Turóczi-Trostler, N. L., 1961; C. Gibson, L., 1989; N. O. Eke and K. J. Skrodzki, L.-Chronik, 1992; G. Heinecke (ed.), N. L. heute gelesen, 2000; NDB.
---
References to other albums:

---