Lederer, Herbert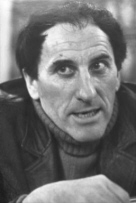 © Copyright
Herbert Lederer, photo, 1970
---
Lederer, Herbert, b. Vienna, June 12, 1926, actor, stage director, theatre manager, writer. Theatre studies; also studied German and psychology. Debut as a young comic actor at the St. Pölten Stadttheater. 1960 founded his "Einmanntheater" ("One-man theatre"), was manager, designer, director and actor. First he rented theatres, then in 1966 established own theatre in Flachau (Salzburg), the "H.-L.-Theater im Pongau", where he performed in the summer months until 1991. Since 1970 manager of the "Theater am Schwedenplatz" in Vienna.
---
Works: Kindheit in Favoriten, without date (around 1970); Theater für einen Schauspieler, 1973; Abgeschminkt, 1983; Im Alleingang, 1985; "Bevor alles verweht ...". Wr. Kellertheater 1945-60, 1986.
Literature: O. Pausch (ed.), H. L. Seit 25 Jahren solo, 1985.
---