Lechthaler, Josef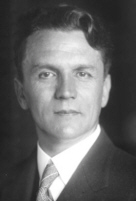 © Copyright
Josef Lechthaler. Photo, around 1925.
---
Lechthaler, Josef, b. Rattenberg (Tyrol), Dec. 31, 1891, d. Vienna, Aug. 21, 1948, music educator and composer of church music. 1924 teacher at the department of church music at the Vienna Academy of Music, (1932-1938 and 1945-1948 its head). Made important contributions to the development of musical education in Austria; introduced the subject "school music" at the Academy of Music in 1933.
---
Works: Masses (Missa Gaudens gaudebo, 1932); Rosa mystica, 1949; Stabat mater, 1928. - Lieder, choral works, organ, piano and chamber music.
Literature: F. Knoflach, Die kirchenmusikal. Werke J. L., doctoral thesis., Innsbruck, 1963; E. Tittel, J. L., 1966; NDB.
---