Lampi, Johann Baptist der Ältere Edler von eigentlich J. B. Lamp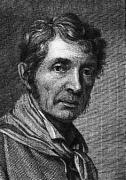 © Copyright
Johann Baptist Edler von Lampi the elder, engraving by J. B. Pfitzer (after a painting by J. B. Lampi the younger)
---
Lampi the elder, Johann Baptist Edler von (real name: J. B. Lamp), b. Romeno (Italy), Dec. 31, 1751, d. Vienna, Feb. 11, 1830, painter of portraits and historical scenes, father of Johann Baptist Ritter* von Lampi the younger. First trained in Salzburg, travelled to Verona, Trento, Innsbruck and Klagenfurt; from 1783 in Vienna, where he adopted the name Lampi and was admitted at court. From 1786 professor at the Vienna Academy; from 1788 in Poland, then at the court of St. Petersburg. Returned to Vienna, 1797; honorary citizen, 1799. Popular portraitist of the court and aristocracy.
---
Works: Portraits of prominent figures (Joseph II, Catherine of Russia, King Stanislaus Poniatowski of Poland, Karl XIII of Sweden with wife, Count Spaur and family, Count Enzenberg and family, mayor S. Wohlleben and wife, J. J. Schwarzenberg and wife); several self-portraits.
Literature: N. Rasmo, Giovanni Battista Lampi 1751-1830, exhibition catalogue, Trento 1951; N. Rasmo, Giambattista Lampi pittore, 1957; ÖBL.
---