Kurrent, Friedrich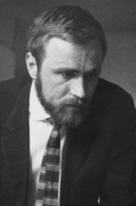 © Copyright
Friedrich Kurrent. Photo, 1980.
---
Kurrent, Friedrich, b. Hintersee (Salzburg), Sept. 1, 1931, architect. Studied under C. Holzmeister at the Vienna Academy of Fine Arts. Since 1956 member of the group of architects Arbeitsgruppe 4 (with W. Holzbauer and J. Spalt); assistant to K. Wachsmann at the Salzburg Summer Academy. 1973-1996 professor at the Technical University in Munich (design, interior decorating and religious buildings); from 1991 in charge of the conversion of the old General Hospital in Vienna to a university campus.
---
Works with the "Arbeitsgruppe 4": Parish Church Salzburg-Parsch, 1953-1956; Religious Welfare Centre Steyr-Ennsleiten (Upper Austria), 1958-1961, 1970/1971; College St. Josef, Salzburg-Aigen, 1961-1964. - Other works: residential building, Nobilegasse, Vienna, 1986; mountain chapel, Ramingstein (Salzburg), 1991; Protestant Church Aschheim bei München, 1996; Parish Church Kirchham (Upper Austria, 1998.
Publications: A. Loos, 1984 (with W. Zednicek); Das Palais Stoclet in Brüssel, 1991 (with A. Strobl).
---