Kropfreiter, Augustinus Franz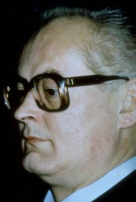 © Copyright
Augustinus Franz Kropfreiter. Photo, 1995.
---
Kropfreiter, Augustinus Franz, b. Hargelsberg (Upper Austria), Sept. 9, 1936, composer and organist. Since 1960 organist at the monastery of St. Florian. From 1965 Head of the St. Florian Boys' Choir. Composes mainly church music (several masses) and organ works, employing polytonal elements and the Hindemith counterpoint.
---
Literature: L. Theiner (ed.), Musikalische Dokumentation A. F. K., exhibition catalogue, Austrian National Library, Vienna 1999.
---