Kronfeld, Robert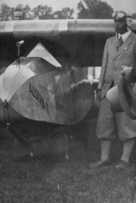 © Copyright
Robert Kronfeld at the christening of the glider "Austria II"
---
Kronfeld, Robert, b. Vienna, May 5, 1904, d. Lasham (United Kingdom, plane crash), Feb. 12, 1948, glider pioneer. Set several world records for distance (164.51 km) and altitude (up to nearly 2589 m) with the gliders "Wien" and "Austria" he built himself in 1929/30. Designed the K. winch for towing gliders, undertook the first flight from a mountain (Rax, Lower Austria), staged large air shows and was the first glider pilot to cross the English Channel in both directions, 1931. Emigrated to England, 1933.
---
Literature: P. Winter, Segelflieger R. K., 1932.
---