Krankl, Hans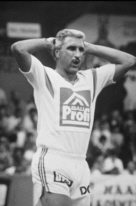 © Copyright
Hans Krankl, photo, 1985
---
Krankl, Hans, b. Vienna, Feb. 14, 1953, football player and trainer. Played 1966-1970, 1971-1978 and 1981-1985 for the Vienna football club Rapid Wien, 1978-1981 for FC Barcelona, 1986-1988 for the Wiener Sport-Club and for a short time also for other clubs. Four times top Austrian, once top Spanish scorer. 1978 top European scorer (Golden Shoe). His goal leading to a 3:2 victory against the Federal Republic of Germany in the 1978 World Championship became legendary. From 1989 trainer (clubs: Rapid Wien, Mödling, FC Tirol, Fortuna Köln and others).
---
Works: Das Spiel, 1990; Fußballweltmeisterschaft 1998, 1998 (ed.).
Literature: H. Prüller, Große Sportler Österreichs, 1987.
---