König, Franz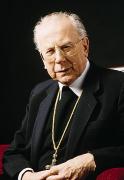 © Copyright
Cardinal Franz König. Photo, around 1990.
---
König, Franz, b. Warth (district of Rabenstein, Lower Austria), Aug. 3, 1905, clergyman and theologian. Ordained as a priest in 1933, 1938-1945 pastoral work with young people, 1949 university professor of Moral Theology in Salzburg, 1952-1956 Co-adjutor of the bishop in St. Pölten, 1956-1985 Archbishop of Vienna, 1958 Cardinal; as a member of two commissions K. made significant contributions to the 2nd Vatican Council. 1964 established the church endowment fund "Pro-Oriente", over which he presided until 1985, and which made significant progress in cooperation with the Churches of Eastern Europe and Asia. 1965-1980 K. was President of the "Vatican Secretariat for Non-believers". His ecumenical commitment and openness to dialogue earned him high esteem beyond Church circles. In Austria, it is owing to his initiative that the tensions between the Roman Catholic Church and the Social-Democrats in the 2nd Austrian Republic were eased.
---
Works: Christus und die Religionen der Erde, 3 vols., 1951; Zarathustras Jenseitsvorstellungen und das Alte Testament, 1964; Der Mensch ist für die Zukunft angelegt, 1975; Kirche und Welt, 1978; Der Weg der Kirche, 1986; Haus auf festem Grund, ed. by A. Fenzl a. R. R. Földy, 1994; Appelle an Gewissen und Vernunft, ed. by G. Hierzenberger, 1995.
Literature: A. Fenzl (ed.), Kardinal K., 1985; A. Stirnemann (ed.), 30 Jahre Pro Oriente, Festgabe für den Stifter F. Kardinal K. zu seinem 90. Geburtstag, 1995; E. Mayerhofer, Kirche im Dialog. Kardinal Dr. F. K. und das Sekretariat für die Nichtglaubenden, 1999.
---