Kirchschläger, Rudolf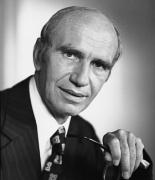 © Copyright
Rudolf Kirchschläger, photo
---
Kirchschläger, Rudolf, b. Niederkappel (Upper Austria), March 20, 1915, d. Vienna, March 30, 2000, law scholar, diplomat and politician (independent). Grew up under difficult circumstances (lost one parent at the age of 3, the other at 11), attended secondary school in Horn (Lower Austria) and studied law at the University of Vienna until 1940. Seriously wounded during and at the end of World War II, 1947-1954 judge in Langenlois and in Vienna, from 1954 legal expert of the Foreign Ministry (Department of International Law), contributed to the preparations and negotiations for the Austrian State Treaty with the Allied Powers and the Law of Neutrality. 1963 head of the cabinet of the foreign minister, 1967-1970 envoy to Prague ("Prague Spring" 1968). 1970 appointed Foreign Minister (without party affiliation) by B. Kreisky (until 1974), 1974 nominated by the SPÖ (Austrian Social Democratic Party) and elected Federal President. In 1980 nominated by the SPÖ and ÖVP, re-elected with 79,9 % of the votes. K.'s presidency was held in general esteem; he always spoke his mind, even on sensitive issues (e.g. "Trockenlegen der Sümpfe und sauren Wiesen" in the wake of the scandal concerning the new General Hospital in Vienna).
---
Works: Der Friede beginnt im eigenen HauS, 1980; Verantwortung in unserer Zeit, 1990; Immer den Menschen zugewandt, ed. by J. Pühringer, 2000.
Literature: B. Jaminskyj, Der Weg in die Hofburg, 1975; M. Schenz, Bundespräsident R. K., 1984; F. Loidl, Bundespräsident Dr. R. K. - ein 70er, 1985.
---