Karajan, Herbert von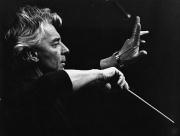 © Copyright
Herbert von Karajan. Photo.
---
Karajan, Herbert von, b. Salzburg, April 5, 1908, d. Anif near Salzburg, July 16, 1989, conductor; great-grandson of Theodor Ritter* von Karajan. Pupil of F. Schalk. K.'s spectacular career began in Ulm in 1929, in 1934 he was general musical director in Aachen and from 1941 in Berlin (rivalry with W. Furtwängler). After the War he was prohibited from working, turned to the Vienna State Opera in 1947 and conducted the concerts of the Gesellschaft der Musikfreunde in Vienna. The 1950s were the starting point of his international career (numerous recordings). In 1954 he succeeded Furtwängler as music director of the Berlin Philharmonic Orchestra, 1957-1964 director of the Vienna State Opera, 1956-1960 and from 1965 artistic director of the Salzburg Festival, whose directorate he was a member of from 1964 to 1988 and whose international reputation is closely linked with his personality. He established the Salzburg Easter Festival in 1967. K. promoted many young artists and was the recipient of numerous honours (e.g. Austrian Decoration for Science and Art 1961). The K. foundation was created in 1969. His artistic and musical legacy are administered by the Herbert von Karajan Center project established in Vienna in 1995
---
Literature: P. Robinson, K., 1976; F. Endler, H. v. K., 1989; R. Osborne, Conversations with K., 1989; G. Mortier (ed.), H. v. K. und die Salzburger Festspiele, 1994; B. W. Wessling, H. v. K., 1994; F. Endler and K. M. Fritthum, K. an der Wr. Oper, 1997; R. Osborne, H. v. K., 1998.
---