Kafka, Helene Schwester Maria Restituta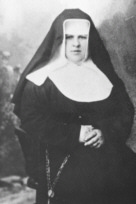 © Copyright
Helene Kafka (Sister Maria Restituta). Photo, around 1925.
---
Kafka, Helene (Sister Maria Restituta), b. Husovice, Czech Republic (then Hussowitz), May 1, 1894, d. Vienna, March 30, 1943, nun, surgical nurse at the Municipal Hospital in Wien-Mödling. Executed in 1943 by the National Socialists for "aiding the enemy and preparing acts of high treason", beatified in 1998.
---
Literature: B. M. Kempner, Nonnen unter dem Hakenkreuz, 1979; W. Kunzenmann (ed.), Sr. Maria Restituta K. - Märtyrerin aus dem Widerstand, 1998.
---