Holzmeister, Clemens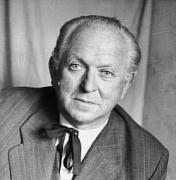 © Copyright
Clemens Holzmeister. Photo, around 1950.
---
Holzmeister, Clemens, b. Fulpmes (Tyrol), March 27, 1886, d. Hallein (province of Salzburg), June 12, 1983, architect; father of Judith Holzmeister. Studied at the Vienna University of Technology, taught at the Vienna Academy of Fine Arts (1924-1938, 1954-1957), head of workshops for master craftsmen at the Düsseldorf Academy of Art (1928-1932), president of the Central Association of Architects and of the new Austrian Werkbund (1932-1938), emigrated to Turkey (1938-1954). Notable for his symbolic monumental and religious buildings. Transformed local building traditions by introducing new elements, a combination of simplicity and expressive gestures. Also created monuments and set designs. Received numerous important awards, including the Grand Austrian State Prize in 1953 and the Austrian Decoration for Science and Art in 1957.
---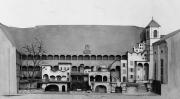 © Copyright
Clemens Holzmeister, model of the Fauststadt in the Felsenreitschule, Salzburg Festival, 1933
---
Works: Vienna crematorium, 1921/1922. - Religious buildings, e.g. in: Batschuns (Vorarlberg), 1921-1923; Blankenese (Germany), 1929/1930; Hermeskeil (Germany), 1929-1931; Hermeskeil (Germany), 1929-1931; Berlin, St. Adalbert (Germany), 1930-1933; St. Anton am Arlberg (Tyrol), 1931-1933; Kleve (Germany), 1932-1934 (extensions); Vienna, Seipel-Dollfuß memorial church, 1932-1934. - Secular buildings: Tyrol: Berghaus H., Kitzbühel, 1930; Upper Austria: Landhaus Eichmann am Attersee, 1927/1928; Kurmittelhaus Bad Ischl, 1927-1931 (with M. Fellerer); from the 1920s major works in Salzburg: alterations to the Festival district (1926-1970); from 1928 government buildings in Ankara. - Publications: Bauten, Entwürfe und Handzeichnungen, 1937; Architekt in der Zeitenwende, 1976 (autobiography, list of works).
Literature: M. Knofler, C. H., doctoral thesis, Innsbruck 1976.
---
References to other albums:

---