Hofmannsthal, Hugo von eigentlich Hugo Hofmann Edler von Hofmannsthal; Pseudonyme: Loris, Loris Melikow, Theophil Morren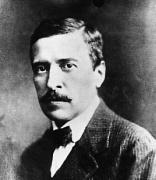 © Copyright
Hugo von Hofmannsthal, photo
---
Hofmannsthal, Hugo von (real name: Hugo Hofmann Edler von H., pseudonyms: Loris, Loris Melikow, Theophil Morren), b. Vienna, Feb. 1, 1874, d. Rodaun, Vienna, July 15, 1929; one of the most important Austrian writers of his time. Son of a bank manager, he began to study Romance languages and literature but gave up his studies in 1899 in order to write. Had already written remarkable pieces of literature while still at school and wrote poems and lyric dramas in the 1890s, establishing a name for himself early on as a skilful aesthete. A milestone in his early work is "Ein Brief", (also known as "Brief des Lord Chandos"), a piece of prose in which H. shows himself deeply sceptical of language. In his later work he deals mostly with ethical questions, and also attempts to revive Greek tragedy (which he connects with psychoanalysis) and the medieval mystery play (e.g. new version of "Jedermann", 1911). His friendship with S. George ended in 1906, while he remained a lifelong friend of Richard Strauss', for whose operas he wrote libretti which were highly attuned to the Strauss style and temperament. H. also wrote a great number of politico-cultural essays and speeches in which he confronted the problems of his time and analysed the role of the poet in society; one of his most influential theories was his so-called "österreichische Idee" ("Austrian idea"). He also shaped cultural life in Austria by initiating and managing the Salzburg Festival together with M. Reinhardt and R. Strauss.
---
Further works: Poetry: Ausgewählte Gedichte, 1903; Gesammelte Gedichte, 1907; Nachlese der Gedichte, 1934. - Plays: Der Tod des Tizian, 1892; Der Tor und der Tod, 1893; Der Kaiser und die Hexe, 1897; Das kleine Welttheater, 1903; Das Bergwerk zu Falun, 1907; Alkestis, 1911; Der Schwierige, 1921; Das Salzburger Große Welttheater, 1922; Der Unbestechliche, 1923; Der Turm, 1925. - Libretti: Elektra, 1903; Der Rosenkavalier, 1911; Ariadne auf Naxos, 1912; Josephslegende, 1914; Die Frau ohne Schatten, 1919; Arabella, 1923; Die ägyptische Helena, 1928; Die Liebe der Danae, 1952 (posthumous). - Prose: Die prosaischen Schriften, 4 vols., 1907-1917; Reden und Aufsätze, 1921; Buch der Freunde, 1922; Die Berührung der Sphären, 1931; Dt. Erzähler, 4 vols., 1912 (ed.). - Correspondance with R. Strauss, 1925; correspondance with S. George, 1938. - Editions: Ausgewählte Werke, 2 vols., ed. by R. Hirsch, 1957; Sämtl. Werke, incl. Notes on the text, 38 vols., ed. by R. Hirsch a. o., 1975ff.; Ges. Werke in 10 single vols., ed. by B. Schoeller, 1979/80.
Literature: W. Volke, H. v. H. in Selbstzeugnissen und Bilddokumenten, 1967; R. Alewyn, Über H. v. H., 41967; G. Pickerodt, H. Dramen, 1968; P. Szondi, Das lyr. Drama des Fin de Siècle, 1975; W.-A. Koch, H. v. H., 1989; J. Le Rider, H. v. H., 1997; NDB.
---