Hochwälder, Fritz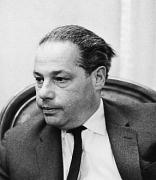 © Copyright
Fritz Hochwälder. Photo.
---
Hochwälder, Fritz, b. Vienna, May 28, 1911, d. Zurich (Switzerland), Oct. 20, 1986, dramatist. Originally a joiner and upholsterer, later trade union secretary, in 1938 emigrated to Zurich, where he lived until the end of his life. His dramas were often staged especially during the 1950s and 1960s. Followed traditional forms and by using historical subjects showed the discrepancy between the ideal on the one hand and political or social reality on the other. In his most famous drama "Das heilige Experiment" (1947) he describes the dissolution of the Jesuit State in Paraguay as a result of a political struggle for power. Awards: 1956 Grillparzer Prize, 1966 Grand Austrian State Prize, 1980 Austrian Decoration for Science and Art.
---
Further works: Jehr, 1932; Liebe in Florenz, 1936; Der Flüchtling, 1946; Die verschleierte Frau, 1946; Der Unschuldige, 1949; Virginia, 1951; Donadieu, 1953; Der öffentl. Ankläger, 1954; Der Verfolgte, 1954; Hôtel du Commerce, 1954; Die Herberge, 1956; Meier Helmbrecht, 1958; Donnerstag, 1959; Esther, 1960; Schicksalskomödie, 1960; 1003, 1964; Der Himbeerpflücker, 1965 (TV-production in 1964); Der Befehl, 1967; Die Prinzessin von Chimay, 1982. - Im Wechsel der Zeit. Autobiograph. Skizzen und Essays, 1980; radio plays. - Edition: Dramen, 4 vols., 1975-1985.
Literature: W. Bortenschlager, Der Dramatiker F. H., 1979; R. B. Gross, F. H., 1988.
---