Hellmesberger, Georg senior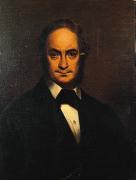 © Copyright
Georg Hellmesberger sr., anonymous painting (Gesellschaft der Musikfreunde in Vienna).
---
Hellmesberger, Georg sr., b. Vienna, April 24, 1800, d. Vienna, Aug. 16, 1873, violinist and conductor, father of Josef Hellmesberger sen. and Georg Hellmesberger jr.; student of J. Böhm, 1833-1867 taught at the Vienna Conservatory, from 1830 concert-master at the Vienna Court Opera and member of the court orchestra; musical director of the Vienna Philharmonic Orchestra.
---
Literature: ÖBL; NDB.
---