Hellmer, Edmund von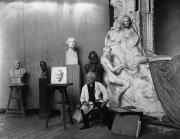 © Copyright
Edmund von Hellmer in his studio, photo, 1923.
---
Hellmer, Edmund von, b. Vienna, Nov. 12, 1850, d. Vienna, March 9, 1935, sculptor of the Historicism period. First studied architecture, then sculpture at the Vienna Academy. Worked in the studio of H. Gasser, 1879-1922 taught at the Vienna Academy, teacher of A. Hanak. Only partly followed the neo-Baroque style, influenced by A. von Hildebrand. Founding member of the Vienna Secession, important creator of monuments and portrait painter. In 1900 published "Lehrjahre in der Plastik".
---
Works: monuments: Türkenbefreiungsdenkmal im Stephansdom, 1894 (1945 partly destroyed); E. J. Schindler, 1895; J. W. v. Goethe, 1900; J. Strauß, 1921 (all in Vienna); M. v. Franck, 1899 (Graz); Empress Elisabeth, 1901 (Hellbrunn). - Architectural sculpture for the Parliament, University, Hofburg etc. in Vienna. - Gravestones: N. Dumba, around 1903; H. Wolf, 1904 (both in Vienna, Zentralfriedhof).
Literature: B. Scheiblin, Die Sepulkralplastik E. H., master's thesis, Vienna 1988; E. Hellmer, E. H., 1990; ÖBL.
---