Haselböck, Hans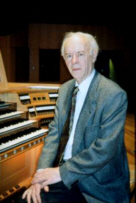 © Copyright
Hans Haselböck. Photo, 1995.
---
Haselböck, Hans, b. Nesselstauden (Bergern, Lower Austria), July 26, 1928, organist, composer; father of Martin Haselböck. Won the international organ competition in Haarlem several times, organist at the Dominican Church in Vienna, and 1963-1996 taught at the Musikhochschule (now University of Music and Performing Arts) in Vienna; concert organist and visiting professor (especially of improvisation) in many countries; was also interested in the theory of organ construction and techniques of playing the organ.
---
Publications: Barocker Orgelschatz in NÖ., 1972; Vom Glanz und Elend der Orgel, 1999.
---