Happel, Ernst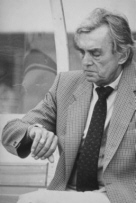 © Copyright
Ernst Happel. Photo, 1985.
---
Happel, Ernst, b. Vienna, Nov. 29, 1925, d. Innsbruck (Tyrol), Nov. 14, 1992, soccer player and trainer. Played for Rapid Wien (1954/1955 for Racing Paris). An excellent defence player, played 51 international matches for Austria. >From 1958 was a trainer and won 18 titles with 6 teams in Belgium, Germany, the Netherlands and Austria (world champion of trainers). After his death the Prater Stadium in Vienna was renamed E.-H. Stadium.
---
Literature: H. Prüller, H. Danke Ernst!, 1992; H. Windisch (ed.), H., 1992; H. Prüller, Das große H.-Fußballbuch, 1993.
---