Girardi, Alexander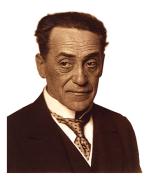 © Copyright
Alexander Girardi, photo by d'Ora, 1911
---
Girardi, Alexander, b. Graz (Styria), Dec. 5, 1850, d. Vienna, April 20, 1918 actor. From 1871 at the Vienna Strampfer Theater (with J. Gallmeyer), from 1874-1896 at the Theater an der Wien, where he became one of the most famous young performers and singing comedians; from 1896/97 at the Carltheater, from 1898-1900 character actor at the Deutsches Volkstheater; guest performances at the Theater in der Josefstadt, the Raimundtheater, the Johann-Strauß Theater and the Stadttheater in Vienna as well as in Berlin, Hamburg and Dresden; two months before his death, debut at the Vienna Burgtheater as Fortunatus Wurzel in Raimund's "The Peasant as a Millionaire" ("Der Bauer als Millionär"); character actor in Raimund plays (Valentin) and comic actor in operettas by J. Strauß, K. Millöcker, E. Eysler and F. Lehár; film actor (et al. 1913 "Der Millionenonkel").
---
Work: Ach, da muß ich sehr bitten (in: Neues Wiener Tagblatt, 4. 12. 1910).
Literature: K. F. Nowak, A. G., 1908; H. Klang, A. G. Leben und Bühnentätigkeit, doctoral thesis, Vienna 1937; R. Holzer, A. G. und das Theater an der Wien. Die Wiener Vorstadtbühnen, 1951.
---