Gessmann, Albert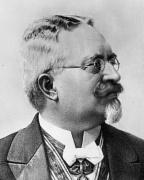 © Copyright
Albert Gessmann. Lithograph by K. Prochaska, 1908.
---
Gessmann, Albert, b. Vienna, Jan. 18, 1852, d. Prein (municipality of Reichenau an der Rax, Lower Austria), July 7, 1920, librarian and Christian Socialist politician. 1876-1903 librarian and curator at the library of the University of Vienna, from 1891-1911 member of the Reichsrat, co-founder and, with K. Lueger renowned leader of the Christian Socialist Party, which he fused with the Catholic People's Party in 1907; 1908 Minister of Labour, 1910 chairman of the Christian Socialist Association in the Austrian parliament. G. favoured a multinational, largely autonomous state.
---
Works: Zur Mittelschulreform, 1908.
Literature: E. Binder, Dr. A. G., doctoral thesis, Vienna 1951.
---