Freistadt, Oberösterreich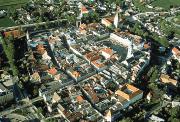 © Copyright
Freistadt.
---
Freistadt, Upper Austria, town in the district of Freistadt, alt. 560 m, pop. 6,917 (1981: pop. 6,251), area 12.88 km2, principal town of the lower Mühlviertel region on the salt route to Bohemia. - District Commission, district court, employment services, revenue office, surveying office, Tilly-Kaserne barracks, official automobile inspection agency, road maintenance depot, health and social insurance agency, Chamber of Labour, Economic Chamber, district Chamber of Agriculture, provincial hospital, club aerodrome (in Hirschbach), animal breeding station, laboratory of the Federal Institute of Plant Cultivation, day centre of the Lebenshilfe charity, shooting range, schools such as Bundesgymnasium and Bundesrealgymnasium, vocational school for construction trades, commercial academy, college for commercial occupations (private), secondary school of agriculture. Brewery and production of carbonated beverages, production of meat and sausage products, furniture, kitchen furniture, some tourism. - Late medieval town centre and well-preserved remains of fortifications (city moat, keep, Linz and Böhmen gates, Dechanthof tower, Scheibling tower); typical example of a planned city area based on a rectangular pattern. Late Gothic burghers' houses with arcaded courtyards and Baroque façades are located in the city centre. Late Gothic city parish church with rich star and loop-rib vaults by M. Klayndl (1483-1501), in 1520-1522 the church was rebuilt as a basilica with five naves, redesigned in 1690 by C. A. Carlone in Baroque style and redesigned in neo-Gothic style in 1877. Gothic Church of Our Lady (former hospital church) built in the mid-15th century, with stained-glass windows dating from around 1500. Former prince's castle, drastically altered medieval fortress (further renovations in 1801-1806, 1880) with Mühlviertler Heimathaus centre (since 1926). Freistadt was the centre of the iron and salt trades between the Danube area and Bohemia until well into the 18th century, in the 19th century a railway station for the (horse-drawn) line Linz-Budweis was also located there
---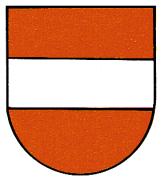 © Copyright
Freistadt coat of arms.
---
Literature: Österr. Städtebuch, vol. I, Oberösterreich, 1968.
---
References to other albums:

---