Franzhausen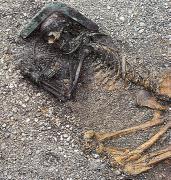 © Copyright
Franzhausen: crouched burial of a female "Dame mit Kopfzierde".
---
Franzhausen, Lower Austria, part of the municipality of Nußdorf ob der Traisen, largest necropolis in Europe, dating back to the early Bonze Age with two graveyards and over 2,100 graves (2300/2200-1600 B.C.). The graves contain numerous burial objects (jewellery, pieces of traditional costumes, bronze weapons). A cremation burial ground dating from the Urnfield Culture of the late Bronze Age (1250-800/750 B.C.) with over 400 graves and more than 2,000 ceramic vessels as well as pieces of traditional clothing and bronze jewellery has been excavated. Despite recent grave looting, the remaining bronze objects testify to the wealth of the former inhabitants of the area. A museum of ancient history is located in Nußdorf ob der Traisen.
---
Literature: Niederösterreichisches. Landesmuseum/Lower Austrian Provincial Museum (ed.), Mensch und Kultur der Bronzezeit. Franzhausen I, Gemeinde Nußdorf ob der Traisen, Niederösterreich, Mitteleuropas größtes frühbronzezeitliches Hockergräberfeld, 1988; J.-W. Neugebauer, Archäologie in Niederösterreich, St. Pölten und das Traisental, 1993.
---