Ferstel, Heinrich Freiherr von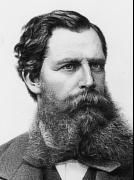 © Copyright
Baron Heinrich von Ferstel. Lithograph by A. Schubert.
---
Ferstel, Baron Heinrich von, b. Vienna, July 7, 1828, d. Vienna, July 14, 1883, architect. After studies in Vienna F. worked in the atelier of his uncle F. Stache (1814-1895) from 1851-1853. In 1855 he successfully competed for the construction of the Votivkirche in Vienna, completed in 1879, which made him one of the most distinguished architects of the "Ringstrasse" period. From then on he launched several important projects and was supported by his brother-in-law, K. Koechlin (1828-1894) from 1856. his early buildings were dominated by elements of late romanticism (bank building, Vienna Stock Exchange, Vienna 1860), his later works mostly by the ideals of historicism and elements of the neo-Renaissance period. >From 1866 he was a professor at the Polytechnikum, today's Vienna University of Technology. Apart from various monumental buildings (in Vienna: Austrian Museum of Art and Industry, 1871; Chemical Department of Vienna University, 1872; School of Arts and Crafts, 1877; Vienna University, 1884; Lloyd building in Trieste, 1883) he created especially villas (Villa Wartholz, Reichenau 1872), residential buildings and palaces (Palais Wertheim, 1868; Palais Archduke Ludwig Viktor, 1869; both situated in Vienna). As a representative of Viennese architecture F. served as a model for other architects. The artistic effect of his works was felt throughout the Austro-Hungarian Monarchy.
---
Literature: N. Wibiral, H. v. F. und der Historismus in der Baukunst des 19. Jh., doctoral thesis, Vienna 1952; N, Wibiral and R. Mikula, H. v. F., 1974.
---