Esterházy, Magnatenfamilie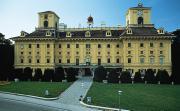 © Copyright
Palace Esterházy in Eisenstadt, Burgenland
---
Esterházy, Hungarian family of magnates, had settled on the island of Schütt by the 13th century. They acquired Galántha (Slovakia) in 1527 and had adopted the name for themselves at the beginning of the 15th century. The family split into several lines in 1600; one of them settled with Count Nikolaus Esterházy in West Hungary, acquired Lackenbach and adopted the name of Fraknó (Forchtenstein). Nikolaus and his successors supported the Habsburgs, were made hereditary counts of Forchtenstein in 1626. Paul I Esterházy was given the title of imperial prince ad personam in 1687, the right to carry the title was extended in 1712 to include the eldest son of the family, and, in 1782, to all of the family. The last prince, Paul V Esterházy, died in 1989; the family still exists.
The centre of the family´s power lay at Forchtenstein and Eisenstadt (Burgenland) as well as around the neighbouring town of Esterháza (Fertöd, Hungary). In Vienna, the E. owned the Majoratshaus in Wallnerstraße and from 1814 a palace in the Viennese district of Mariahilf. Their Hungarian estates (128,000 hectares) fell under state control in 1946-1947. The remaining estates in Burgenland (50,000 hectares; the rest was sold to farmers) have been administered by three trusts since 1995/96: Forchtenstein, a charitable trust, and Eisenstadt and Lockenhaus, family trusts.
Heads of the Esterházy family: Prince Paul I Esterházy (founder), Prince Michael Esterházy (1713-1721), Prince Joseph Esterházy (1721), Prince Paul II Anton Esterházy (1721-1762), Prince Nikolaus I Joseph Esterházy (1762-1790), Prince Anton Esterházy (1790-1794), Prince Nikolaus II Esterházy (1794-1833), Prince Paul III Anton Esterházy (1833-1866), Prince Nikolaus III Esterházy (1866-1894), Prince Paul IV Esterházy (1894-1898), Prince Nikolaus IV Esterházy (1898-1920), Prince Paul V Esterházy (1920-1989).
---
Literature: Die Fürsten Esterházy, exhibition catalogue, Eisenstadt 1995.
---