Escherich, Theodor von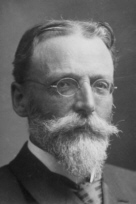 © Copyright
Theodor von Escherich, photo around 1900
---
Escherich, Theodor von, b. Ansbach (Germany), Nov. 29, 1857, d. Vienna, Feb. 15, 1911, pediatrician; 1894 professor at the University of Graz and head of the Graz Pediatric Clinic; 1902 in Vienna; created a scientific society of pediatricians and was co-founder of the Austrian Society for Pediatric Research and founder of the Imperial Institute for Maternal and Infant Care. also laid the groundwork for sensible infant nutrition. The coli bacteria "Escherichia coli" are named after him.
---
Publications: Die Darmbakterien des Säuglings, 1886; Diphtherie, Croup, Serumtherapie, 1895.
Literature: I. Fischer (ed.), Biograph. Lexikon der hervorragenden Ärzte der letzten 50 Jahre, vol. 1, 1932; ÖBL.
---