Engelmann, Eduard junior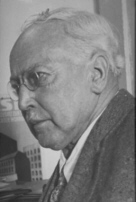 © Copyright
Eduard Engelmann Junior. Photo, 1934.
---
Engelmann, Eduard Jr., b. Vienna, July 14, 1864, d. Vienna, Oct. 31, 1944, engineer and athlete; son of Eduard Engelmann Sr., father of Helene Engelmann. Successful cyclist and figure skater. 1892 and 1894 European figure skating champion, 1909 designed and built the world's first open-air ice-skating rink on the E. skating rink in Hernals, 17th district of Vienna (now on the roof of a shopping centre); laid the groundwork for the electrification of the Mariazell railway (Wienerbruck power station).
---
Literature: A. Meisel, 60 Jahre Sportplatz E., 1932.
---