Czech, Hermann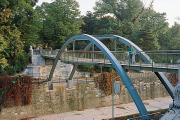 © Copyright
Hermann Czech, footbridge in the Stadtpark, Vienna.
---
Czech, Hermann, b. Vienna, Nov. 10, 1936, architect. Studied under K. Wachsmann and E. A. Plischke. Theoretical publications and studies (O. Wagner, A. Loos, J. Frank). Advocate of a new "silent" type of architecture which only "talks" when "it is asked"; at first only small buildings. C.'s concept of "architecture as background" also characterizes his town planning projects.
---
Works: in Vienna: cafés, bars, restaurants, houses and exhibitions; collaboration on the planning of the underground railway (U-Bahn). Kleines Café, 1970/1974; basement alterations Palais Schwarzenberg, 1982-1984; footbridge in the Stadtpark, 1985-1987; houses in Perchtoldsdorf, 1989-1994; elementary school in Simmering, 1991-1994; main building of Bank Austria in Vienna, 1997 (reconstruction). - Publications: Das Looshaus, 1976 (with W. Mistelbauer); Zur Abwechslung. Ausgew. Schriften zur Architektur, 1978; J. Frank 1885-1967, 1981 (with J. Spalt); Zur Abwechslung, 1996.
---