Cuspinianus, Johannes eigentlich J. Spießheimer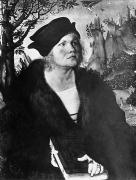 © Copyright
Johannes Cuspinianus, Painting by L. Cranach the Elder, 1502 (Kunsthistorisches Museum, Vienna).
---
Cuspinianus, Johannes (real name: J. Spießheimer), b. Schweinfurth (Germany), at the end of Dec. 1473, d. Vienna, April 19, 1529, humanist, physician, diplomat, historian and poet. After studies in Leipzig and Würzburg came to Vienna in 1492, Maximilian I crowned him poet laureate in 1493. As a university student and teacher at the Bürgerschule zu St. Stephan he came in contact with humanists, 1499 became doctor of medicine and university professor. After the death of K. Celtis in 1508 he became professor of poetry and was said to be the most important humanist in Vienna. From 1510 several times Court envoy to Hungary and Poland, managed to set up the Conference of Princes in Vienna in 1515; afterwards town syndic of Vienna. Famous for discovering and editing classical and medieval historical sources (e.g. the chronicle of Otto von Freising). "Austria", his critical historical and geographical study of Lower Austria, begun in 1527/28 but unfinished, is of special importance. He is buried in St. Stephen's Cathedral, Vienna.
---
Works: De Caesaribus atque imperatoribus romanis, 1540 (German 1541); Consules (History of the Roman consuls up to Justinian); Austria, 1553.
Literature: H. Ankwicz-Kleehoven, Der Wr. Humanist J. C., 1959.
---